A Comprehensive Neighbourhood Guide for Moving to Cabbagetown
Cabbagetown is a lively and energetic residential community located just outside of Toronto's downtown core. The neighbourhood has seen a tremendous jump in popularity in the last few years and is now one of the most desirable areas in all of Toronto. With its incredibly diverse multicultural community and beautifully restored historic houses, Cabbagetown has a unique identity that is unlike any other neighbourhood in the city.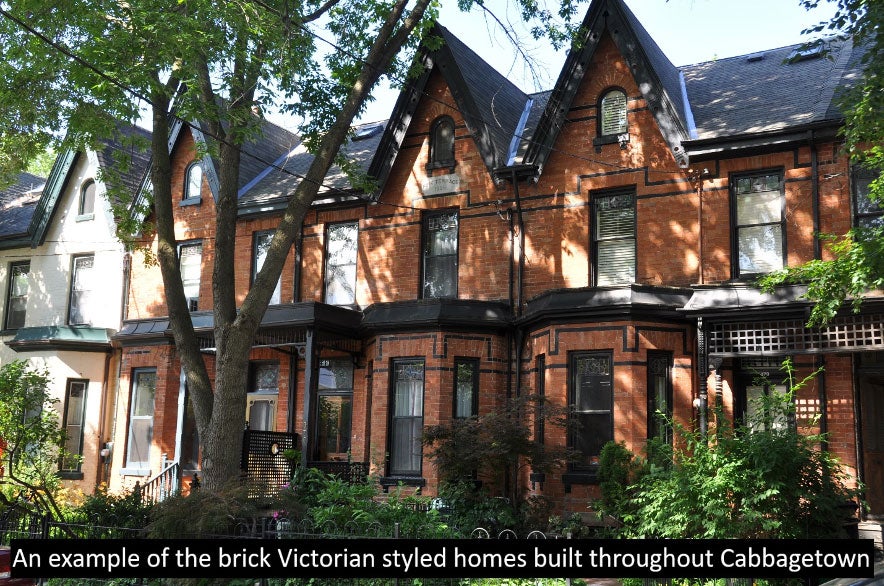 Where is Cabbagetown?
Cabbagetown is a large neighbourhood that sits between Sherbourne Street and the Don River, with Wellesley Street East acting as the neighbourhood's northern boundary, and Gerrard Street East acting as the neighbourhood's southern boundary. The portion of Cabbagetown between Sherbourne Street and Parliament Street extends south below Gerrard Street East all the way to Shuter Street-- this area is known as "Cabbagetown South".
Transportation Options around Cabbagetown

Getting around Cabbagetown is incredibly easy because you have access to so many great transportation options. Cabbagetown is located just off the Don Valley Parkway, which can take motorists south to the downtown core or north toward Scarborough, all in a matter of minutes. Cabbagetown is also a great neighbourhood for pedestrians. You can walk from the heart of Cabbagetown to the CN Tower in less than a half an hour. As for public transit, Cabbagetown is located just south of three subway stations, Broadview, Castle Frank, and Sherbourne, which are part of the Bloor-Danforth subway line and can take you to just about anywhere in the city.
The Rich History of Cabbagetown

In the 1840s, thousands of Irish immigrants settled in the Cabbagetown area after fleeing the Potato Famine in their homeland. To help put food on the table, these first Cabbagetown residents grew cabbages on their front lawns, which is how the district came to be known as Cabbagetown.
 
By the late 19th century, the area of Cabbagetown south of Gerrard Street had become populated mainly by small cottages, which were home to the workers in the many industries that were established along the Don River. However, north of Gerrard Street there was a mix of houses that belonged to both blue- collar and white-collar workers. Many wealthy company owners lived along Carlton Street in tall, thin, asymmetrical, and often semi-detached, Gothic Revival and Victorian style houses, which became trademark of the Cabbagetown neighbourhood.
 
The Great Depression of the 1930s hit Cabbagetown extremely hard, and many residents were put out of work. The neighbourhood saw a sharp decline for the next several decades, until the 1960s when realtors began to discover the large stock of decayed, but largely untouched, Victorian houses in the area. Attracted by the low prices and the area's history, new homeowners began to move in and restore these historic houses to their former glory, revitalizing the neighbourhood in the process.
In 1987, to prevent any future threat of destruction, a group of concerned citizens created the 
Cabbagetown Preservation Association (CPA)
 to fight to preserve the area's architectural integrity and historic character.
The Types of Homes in Cabbagetown

Most of the residential space in Cabbagetown is occupied by houses built between 1860 and 1895. Cabbagetown is said to have the largest collection of Victorian homes in North America, which have been lovingly restored under the watchful eye of the Cabbagetown Preservation Association. The houses in Cabbagetown's north end are built on relatively small lots, which gives the neighbourhood an intimate feel. The streets are lined with mature trees that provide a canopy adding to the picturesque look of this historic neighbourhood. On the west end of Cabbagetown along Sherbourne Street, there are several low-rise apartment buildings and a handful of newer condominium complexes that provide some diversity to the housing options in the area.
Making the Move to Cabbagetown
Cabbagetown's beautiful and unique housing options, amazing access to Downtown Toronto, and diverse multicultural community have made it one of the most popular neighbourhoods in the city. If you are looking to move into the Cabbagetown area, you should act fast as the housing market is becoming incredibly competitive. Moving into a new home can be challenging, especially if you are moving into an area near the bustling downtown core like Cabbagetown. Renting out a self-storage unit can help alleviate some of the stress of move-in day and even help with home organization after the move is complete.
Right now, Storwell Self-Storage is providing our clients with an exclusive offer of 4 weeks of free self-storage at any of their facilities. Storwell has locations across the GTA in Scarborough, Mississauga, and one location in Etobicoke near Kipling and the Gardiner Expressway, which is just a short drive west of Cabbagetown. If you need self-storage to help with your next move, call a Storwell representative or visit a facility in person to demo a 
unit
.
Although Cabbagetown is located just minutes away from Downtown Toronto, it also has amazing access to parks and green spaces, which allows Cabbagetown residents to reconnect with nature while also living right next to a bustling city centre. 
Wellesley Park
 is a heavily wooded park located on the east side of Cabbagetown, right next to the Don River. Wellesley Park has a variety of scenic nature trails along with several designated picnic areas.
Just south of Wellesley Park is Riverdale Park, which has two full-sized baseball diamonds, a dog park, and is home to the 
Cabbagetown Farmer's Market
. Riverdale Park is also home to 
Riverdale Farm
, which is a real working farm right in the heart of Cabbagetown. People visiting the 7.5-acre property will get a first-hand taste of farm life, from raising livestock to the year-round handwork and craft programs in The Meeting House.
If you are on the west end of Cabbagetown, you can visit 
Allan Gardens
 on the corner of Carlton and Sherbourne Street. Allan Gardens is comprised of a large park and an indoor botanical garden with six greenhouses spanning over 16,000 square feet. The conservatory building, Palm House, contains colourful plants and flowers from around the world, and has been a fixture of Cabbagetown since its construction in 1910.
The Phoenix Concert Theatre
 is also located on the west end of Cabbagetown on Maribeth Avenue. The vibrant concert venue has three separate rooms, several bars, and has been host to thousands of live performances since opening in Cabbagetown nearly 20 years ago.
The Best Schools in Cabbagetown
Cabbagetown has an amazing selection of schools, which is why the neighbourhood has become so popular for families with young children. Both the Toronto District School Board and the Toronto Catholic District School Board operate several schools in the area. The main secondary school in the Cabbagetown area is 
Rosedale Heights School of the Arts
, located on Bloor Street East. Rosedale Heights places an emphasis on the performing and visual arts and received extremely high marks in the 
Fraser Institute's Annual Report Card for 2020
 being ranked as one of the top 100 secondary schools in all of Ontario out of nearly 800 other schools.
Cabbagetown also has an excellent selection of elementary schools. Some of the highest rated elementary schools in the neighbourhood include:
Lord Dufferin Junior Public School
Sprucecourt Junior Public School
Our Lady of Lourdes Catholic School
Rose Avenue Junior Public School
The Best Restaurants in Cabbagetown
Cabbagetown's culturally diverse community is reflected in the neighbourhood's eclectic mix of dining options offering cuisines from all over the world. The majority of Cabbagetown's best restaurants are situated along Parliament Street. 
Gushi Gerrard Japanese Street Food
 is located on the corner of Parliament and Gerrard Street and focuses on "Yatai" culture (street food) with some of the best Japanese fried chicken in the city. If you travel north on Parliament to Winchester Street, you will find 
Kingyo
, an Informal, contemporary Japanese restaurant featuring small plates created by famed chef Koji Zenimaru. A staple of the Cabbagetown community is 
House on Parliament
, located just north of Spruce Street. House on Parliament is a busy pub with a relaxed atmosphere that has local and global beers on tap and serves classic bar fare.
If you are looking to satisfy your sweet tooth, head over to 
Congo Coffee and Toronto Beignets
 on Gerrard Street East. Congo Coffee rests their dough for 2 days giving their beignets (French for donuts or doughnuts) their unique texture. Congo coffee Beignets are light, fluffy, airy, and a must-have if you are in Cabbagetown.
While most of the best dining options in Cabbagetown are situated around Parliament Street, there are plenty of other great places to eat in other parts of the neighbourhood. 
Chew Chew's Diner
 is located on the west end of Cabbagetown on Carlton and Bleeker Street. Chew Chew's is serving up all-day breakfast, hot sandwiches, and burgers in a space with booth seating and train-inspired decor. Located in Cabbagetown South, 
Umi's Kitchen
 is a small, easygoing eatery offering traditional, homestyle Caribbean and island cuisine in a casual setting.

Share
Categories
Archives

Subscribe To This Blog